Phelt'n Fizix > 11.05.2004 > Rhythm Room

Our second show EVER was at The Rhythm Room in Cleveland Hts. Chris and Mike walked in the door and on to the stage. They played, they jumped, they screamed real loud.

SETLIST
pheltn' phunk
corner
mosh
como tu pel tootay
new song
hoopty
bad boy for life

Our LIVE version of COMO TU PEL TOOTAY and CORNER is from this night. biach.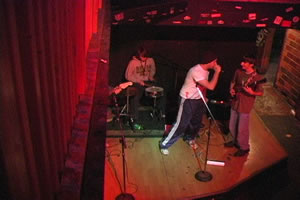 Checkout our sweet new drumset.
DA Band
Chris
JOE
Mike
Nick

Albumz
Hoopty
Fiz Ed

NewZ
PF News
Archives
History
media
Bling bling

Live PF
WPN
Rhythm Room
Cogan Fest 2
Some Show

Other CraPF!
indabib
myspace:pf
(un)Offical PF
WEENIE ROAST
Email Us
PhOSERS!
FeltonRoad.com
TheFizix.com
Felton Fire
PF.com